HOME > Conference > KATE International Conference > 2016 Conference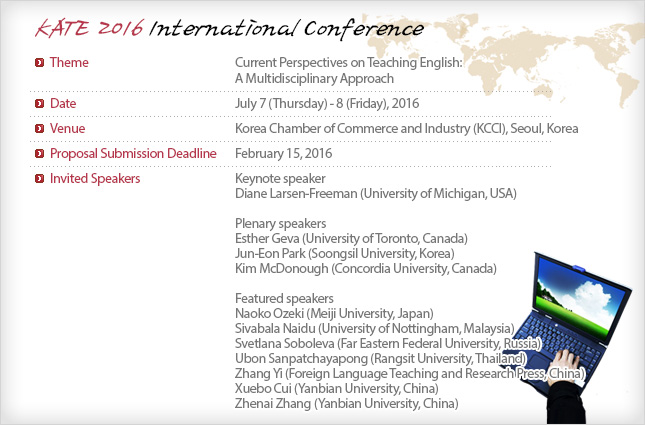 Diane Larsen-Freeman
(University of Michigan, USA)

Keynote speech : Expanding a Multidisciplinary Approach to Teaching English with the New Sciences

Diane Larsen-Freeman, Ph.D. in Linguistics, is Professor Emerita at the University of Michigan, Ann Arbor and at the SIT Graduate Institute in Brattleboro, Vermont. Currently, she is a Visiting Senior Fellow at the University of Pennsylvania, where she teaches courses in The Structure of English and in Second Language Development.

Esther Geva
(University of Toronto, Canada)

Plenary Speech III : A Multidisciplinary Approach to teaching reading to English learners

Dr. Geva's research interests include the development of literacy skills in children learning to read in a second language (L2); the relations between oral and written language skills in L2 learners; transfer issues in L2 literacy development; cognitive and linguistic processes and predictors of normal and problematic literacy development in L2 children, and selected topics in cross-cultural psychology pertaining to children's well-being such as parental attribution and concepts of wellness. In applied practice, she is interested in community-based approaches to prevention and intervention in minority groups, and options in assessment and intervention for ESL and other L2 learners.
Jun-Eon Park
(Soongsil University, Korea)

Plenary Speech II : A Two-dimensional Approach to English Medium Instruction in higher education

Jun-Eon Park is a professor of applied linguistics at Soongsil University. His main research interests include English as a Foreign Language Education Policy, FLE Curriculum & Materials Development, Korean/English Bilingualism, and Bilingual Education. He has been involved in several Korean government's FLE policy & curriculum-related research projects.
Kim McDonough
(Concordia University, Canada)

Plenary Speech IV : Multidisciplinary Approaches to second language acquisition

Kim McDonough is a Professor and Canada Research Chair in Applied Linguistics in the Department of Education at Concordia University. Her research interests include interaction and usage-based approaches to second language acquisition, structural priming, and task-based language teaching. Her current research projects are investigating joint attention during conversation, structural priming and fluency, and collaborative writing.

Naoko Ozeki
(Meiji University, Japan)

Featured Speech I : Study of L2 Speech Production from a Dynamic Systems Approach

Dr. Naoko Ozeki is a professor at the School of Global Japanese Studies, Meiji University in Tokyo. Her areas of interest are learners' autonomy and CEFR. She is currently a member of the special committee of the MEXT (the Ministry of Education in Japan) for entrance exams.
Sivabala Naidu
(University of Nottingham, Malaysia)

Featured Speech II : Professional development model for early career ESL teachers:
Perceptions, expectations and realities

Sivabala Naidu is attached to the School of Education, University of Nottingham and is an active member of the Malaysian English Language Teaching Association. He is passionate about supporting early career English language teachers and creating opportunities that will enhance their professional competencies and skills. He also has a keen interest in Critical Discourse Analysis and Sociolinguistics.
Svetlana Soboleva
(Far Eastern Federal University, Russia)

Featured Speech III : National identity through the national accent: Teaching English phonetics in the Russian classroom

My field of theoretical research comprises Pragmatics and Phonetics. I also read lectures in Theoretical Phonetics and Linguistic Pragmatics. Currently I am working on a course of Linguistic Expertise for senior and post graduate students and supervising projects in this field.
Ubon Sanpatchayapong
(Rangsit University, Thailand)

Featured Speech IV : English language bridging entry into undergraduate studies at a Thai university context

Prof Ubon Sanpatchayapong was ThaiTESOL 20th President. She got her doctoral degree in TESOL from the University of Melbourne, Australia. Prof Ubon taught English at Mahidol University before Rangsit University. At present, she is an advisory board of Thailand TESOL and Deputy Director for Administration at Rangsit English Language Institute.
Zhang Yi
(Foreign Language Teaching and Research Press, China)

Featured Speech V : production-oriented approach and its application in EFL teaching material development

Ms. Zhang Yi is the Deputy Director of Higher English Education Publishing, Foreign Language Teaching and Research Press, China. She has ten years' experience in EFL teaching material development and publishing, and has managed several publishing projects on college English textbooks that have been adopted by over 300 universities in China.
Xuebo Cui
(Yanbian University, China)

Featured Speech VI : Third language learning and effective measurement of the trilingual proficiency

Xuebo Cui is associate professor of English Department and Vice Dean of College of Foreign Languages at Yanbian University in China. She got doctor's degree in Applied Linguistics from De La Salle University in Manila. Her research interests are in English writing, bilingual education, professional development for teachers of English, English curriculum and language policy.
Zhenai Zhang
(Yanbian University, China)

Featured Speech VII : Cross-linguistic Influence on English Acquisition as L2 and L3

Zhenai Zhang is Professor of English language, the director of English Education Institute, and the supervisor for doctor degree of English Language and Literature in Yanbian University. She has published books and articles in the field of linguistics, contrastive linguistics and syntax. She is specialized in the research of English education based on Korean-Chinese bilingualism and trilingual Education. She has been responsible for a number of scientific projects and she is currently leading a national-level project.